There are numerous industries that benefit from heat sensing cameras. From agriculture to finding a missing person during a search and rescue operation. All of these rely on a camera that can sense the unique heat signatures of a plant, machine or animal. Let the pros at Palm Beach Drone help you select the right equipment to survey your task.
Call Today for a free quote on the best thermal imaging solutions in the industry.  Tel 561-389-1490
Infrared Imaging Solutions
for Unmanned Systems
FLIR Commercial Systems
FLIR Systems is the world leader in the design and manufacture of infrared imaging solutions for small unmanned systems. With FLIR Vue, FLIR Vue Pro, FLIR Quark and FLIR Tau 2, we supply more thermal imagers for unmanned platforms than any other company in the world.
Introducing FLIR Vue™
Easy, Affordable Thermal Imaging for Commercial sUAS
With FLIR Vue™ you get all the thermal imager you need for sUAS operations without having to pay for functionality you'll never use.
Pre-configured to give you optimal imagery in a wide variety of conditions, FLIR Vue is light enough that it won't throw off your center of gravity or impact your flight times. With simple power-in and video-out connections, it's easy to integrate and get flying on just about any platform.
Best of all, with MSRPs of only $1,499 for 336 resolution cameras and $2,999 for 640 cameras, FLIR Vue is affordable for today's commercial sUAS operations.
Thanks to FLIR Vue, thermal's done right.
(DJI PHANTOM 2 FLIR VUE CONVERSION KIT WITH FLIR VUE 640 RESOLUTION THERMAL CAMERA COSTS $3,704 PLUS INSTALLATION)
Introducing FLIR Vue™ Pro
Take drone thermal imaging and data recording to the new heights with Vue Pro
With FLIR Vue™ you get all the thermal imager you need for sUAS operations without having to pay for functionality you'll never use.
Designed for professional use, FLIR Vue Pro is more than a thermal camera, it is a thermal measurement instrument and data recorder that adds tremendous value to your sUAS operations and services.
Still with the same industry-leading thermal imaging quality and great value as the best-selling FLIR Vue, the Vue Pro adds full data recording of thermal video and 14-bit still imagery. FLIR Vue Pro also uses FLIR Vue's popular and convenient power-in/video-out connection over a 10-pin mini-USB making integration a snap, and ensuring that you'll have easy access to analog video for downlinking.
FLIR Vue Pro gives you in-flight control of two camera functions through direct PWM connections, and it's future MAVLink compatibility will make it ready for the easy image stitching required for mapping, survey, and precision agriculture applications. Plus, it's compatible with Pix4Dmapper right out of the box
The convenient mobile app makes pre-flight camera set-up and configuration quick and easy so you won't have to drag a computer out to your flying site just in case you need to change a camera setting.
Best of all, with MSRPs starting at only $1,999, FLIR Vue Pro is the only thermal imager your drone operations will ever need, and it's affordable for today's commercial sUAS operations.
FLIR Vue Pro gives you more than thermal images, it gives you thermal data for informed decisions.
On-Board Recording
Vue Pro records 8-bit digital video in MJPEG or H.264 formats and 14-bit still imagery to a removable micro-SD card so you won't lose any of your data to transmission loss. Imagery is saved to the micro-SD card and can be retrieved either from the card or by plugging the camera into a USB cable, where your computer will see it as a storage device.
The Imaging solution for DJI commercial drones –  from DJI and FLIR
Thanks to the Zenmuse XT from DJI and FLIR, thermal imaging from the air has never been easier. By combining DJI's unrivaled expertise in flight stability, gimbal technology, and image transmission with the industry-leading thermal imaging technology of FLIR, the Zenmuse XT is the ultimate solution for reliable, rapid-deployable aerial thermal imaging. Capture your thermal images faster, covering large areas, and save them for analysis and reporting.
Available in either 640×512 or 336×256 resolutions, the Zenmuse XT has multiple lens options to make sure you'll have the right combination of situational awareness, magnification, spot size, and area coverage to suit your mission requirements.
Seamless Integration
The Zenmuse XT provides complete camera control through the DJI Go app. This gives you real-time configuration of camera controls like color palette selection, isotherms, level and span adjustment, and zoom just to name a few. It also lets you control your video recording or still image capture settings with the press of a finger, making capturing the thermal data you need as seamless as possible.
Mission Ready
Mounted on either the Inspire 1 or the Matrice 100, the Zenmuse XT is ready to launch in seconds. Its seamless integration gives you access to important features like DJI's powerful Lightbridge video transmission system, automated Point of Interest, Course and Home Lock, Follow Me, and the DJI SDK.
Fast, efficient, yet stable airframes, the Inspire 1 will keep the Zenmuse XT aloft for 22 minutes. If used with the Matrice 100, the Zenmuse XT can stay in flight for up to 35 minutes*, ideal for large scale inspections and especially useful in search and rescue scenarios.
*Inspire 1: Flight times vary based on flight conditions, with a maximum 22 minute flight time being recorded when hovering with a TB48 battery using the Zenmuse XT gimbal camera.
*M100: Flight times vary based on payload and flight conditions, with a maximum 35 minute flight time being recorded when hovering with dual TB48D batteries and no additional payload other than a Zenmuse XT gimbal camera.
Flir Quark Uncooled Camera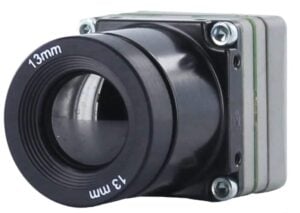 FLIR Quark is the smallest and lightest fully-integrated uncooled camera in existence. It's designed for thermal imaging applications that require minimum volume and weight, yet Quark is rated for extreme shock and operating temperature environments.
Several lens options are available for Quark. Key features include 17-micron VOx FPA pixels for superior image detail, 640 x 512 or 336 x 256 resolution options, ultra-small volume and mass, and an industry-leading shock rating.

More information: FLIR Quark
FLIR Tau 2 Uncooled Thermal Imaging Camera Core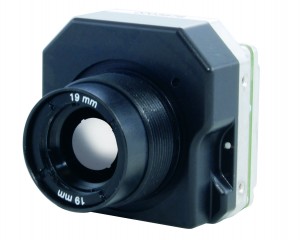 FLIR Tau 2 is the latest generation product of the Tau family of LWIR uncooled thermal imaging camera cores.
Tau 2 features enhanced electronics for improved image processing. Sensor formats include 336 x 256 and 640 x 512 resolutions (17-micron pixel pitch) as well as a 25-micron pixel pitch 324 x 256 resolution. Tau 2 is available with multiple lens options, as well as a lens-less camera body for qualified OEM customers. 30/60 Hz NTSC field-switchable frame rates are standard with the 336 and 324 models. The combination of small size, light weight, high shock, vibration, temperature range-tolerance, and unmatched imaging performance make Quark and Tau 2 ideal for integration into small unmanned systems.
More information: Tau 2